Maple Nissan Express Service
Nissan Express Service in Maple, ON
Maple Nissan is your home for all your service and maintenance needs, as we offer comprehensive Nissan Express Service to drivers based in Maple, Richmond Hill, Vaughan, Markham, North York, Ontario, and beyond. Once you've treated yourself to a model from our new inventory, our Service Centre will give it all the care it needs in the long term, whether it's a complimentary multi-point inspection or the following express services:


Our Express Services : How We Can Help
Oil & filter change
Tire rotation
Engine Air Filter Replacement
Brake Inspection
Wiper Blade Replacement
Bulb Replacement
Express Tire Replacement
If you're a daily commuter, your tires see a lot of action, and they naturally wear out over time. Consider Maple Nissan your home for Express Tire Replacement service, as we offer the convenience of supplying you with a new set of rubber and installing it in the same place.
Oil & Filter Change
Motor oil and a clean filter are integral to your engine's performance, as contaminants and impurities can build up and cause significant damage over time. We'll be happy to keep that from happening by checking your oil level and replacing the filter.
Express Tire Rotation
Uneven tire wear can tarnish your Nissan's performance and fuel efficiency, among other things. With our Express Tire Rotation service, we'll change your tires' position to prolong their lifespan and ensure they're getting even wear throughout your ownership experience.
Express Tire Repair
Not only can we replace your tires, we can also repair them if they incur any damage during your travels. Whatever repairs your tires may need, our certified technicians will be happy to help.
Express Cabin Filter
Like its counterparts, your Nissan's cabin filter keeps pesky intruders from making their way through your vents and into your cabin. Thanks to our Express Cabin Filter service, we'll swap out your old filter for a new one so you can enjoy only the best possible air quality when you take the wheel.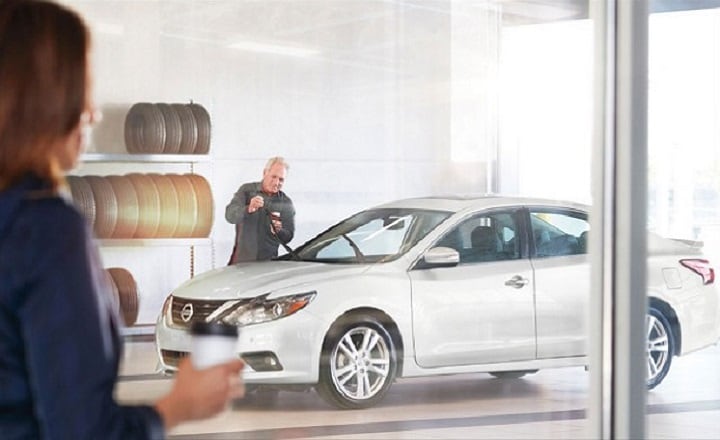 Express Wiper Blades
Wiper blades are integral to your visibility in harsher weather - especially during the winter and spring - and it's never a bad idea to get them checked once the seasons change. If your wipers are a little heavy on the wear and tear, we'll be happy to treat your Nissan to a new pair so you can brave rain and snow with a clear head.
Battery Replacement
Your Nissan's battery is one of its key components, and it's often at its most vulnerable during inclement weather, the winter season included. We'll check your battery as part of your Nissan Express Service appointment and replace it with minimal delay if needed.
Express Bulb Replacement
Visibility is paramount, and your lighting and wiper blades are both integral to ensuring that you can see and be seen. If any of your Nissan's light bulbs are out, our technicians will swap in some new ones during your next appointment.
Express Air Filter
Your vehicle's air filter works in tandem with its oil filter to keep various particles out of your engine. At Maple Nissan, we can tend to every one of your vehicle's filters - this one included - to keep the impurities and potential for engine damage to a minimum.
FAQs
What Do We Do on a Nissan Service?
For starters, we treat your Nissan to a meticulous and thorough multi-point inspection, which includes checks on all your vehicle's most important components. We'll have a look under your hood and check your brakes, battery, tires, and lights, among other parts and systems, and compile a report before informing you if your Nissan needs any TLC.
How Often Should You Service Your Nissan?
Since every model is built differently, we suggest consulting your Nissan's owner's manual for the recommended service intervals. It also never hurts to treat your vehicle to a comprehensive Nissan Express Service a couple of times a year, especially when winter winds down, as its harsh conditions can take a lot out of some of your Nissan's key components.
How Often Does a Nissan Need an Oil Change?
It never hurts to check your oil levels regularly, and your owner's manual can provide you with the proper intervals for oil and fluid changes. We'll also help you stay on the safe side by checking your oil level on your next Nissan Express Service call.
We're proud to offer these integral, affordable services to Nissan owners based in and around Maple, Ontario. If you'd like to make one of our new Nissan models yours, you can obtain approval for credit through our online financing application to save yourself some precious time before visiting us. If you'd like to save more on your next purchase, feel free to sell us any trade-ins, and we'll include their sales price into your new agreement. Whatever your budget, Maple Nissan can help in more ways than one.